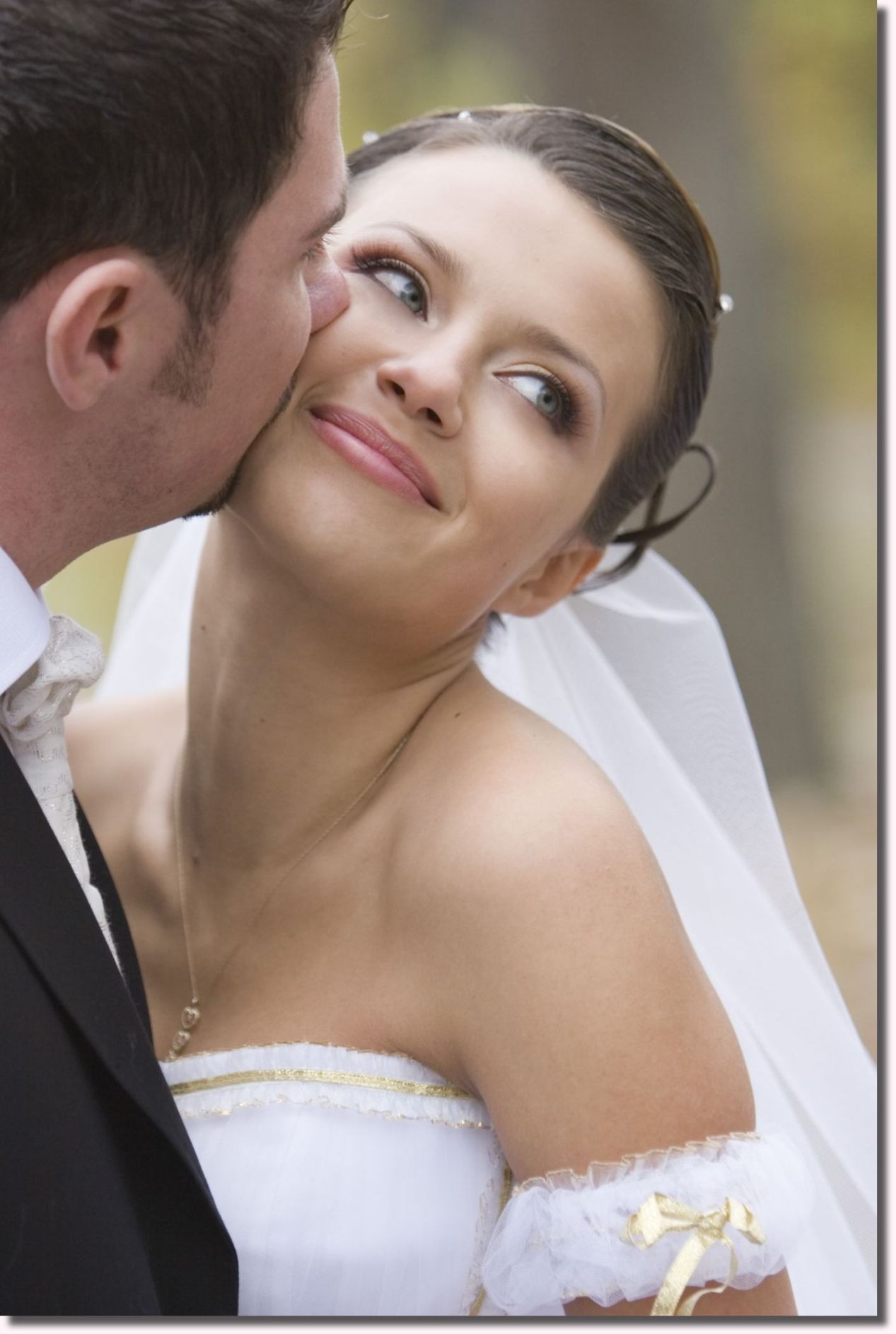 The search for your dream wedding dress can be almost as exciting a journey as searching for the love of your life. Emphasis on "almost". But as important as your wedding dress may be, there are many other details that come together to make you look your best on your big day.
Even the most gorgeous dress in the world can often benefit from a few stylish accessories. Headpieces, veils, handbags, jewelry and shoes blend to create more than just the perfect dress, but the ensemble of your dreams.
When planning your wedding, it is easy to see that all the details add up to more than the sum of their parts. An otherwise ordinary venue can transform into a virtual paradise with the right decorations. The same theory applies to your your bridal accessories. These items will be sure to inspire smiles and cheers from your attendants and guests.
Veils
Bridal veils come in many different shapes, sizes and lengths. When planning out the right veil for your wedding day, it is important to consider the season, wedding theme and style of your dress. Summer weddings might call for a shorter veil, while winter ceremonies may require something a little longer.
Blusher Veils:
Blusher veils consist of a single, see-through layer of tulle or netting. They come in two distinct styles.
Traditional blusher veils are worn over the face during your walk down the aisle, and then either the father of the bride or the groom lifts it up during the ceremony. Modern veils are great for creating a "retro" or vintage feel. You can wear these veils all throughout the day.
Short Veils:
Short veils just sweep across the bride's shoulders. They can be composed of one single, lightweight layer or multiple layers of fabric. Short veils are ideal for daytime weddings or casual affairs. Some brides even choose to switch from a long veil during the ceremony to a shorter one during the reception.
Mid-length Veils:
These versatile veils often come with multiple layers and extend down to somewhere between the elbows and fingertips. If you don't want to go all-out with an extra long veil, a mid-length style is a perfect compromise. They look great for photographs taken with your veil blowing gently in the wind!
Cathedral and Chapel Veils: These long, flowing veils extend several feet behind your wedding dress. They look breathtaking and glamorous while you walk confidently to meet your husband-to-be. Chapel and cathedral veils help to elongate the silhouette and look incredible in portraits.
Headpieces
Of course, veils aren't the only way to spruce up a wedding outfit. Oftentimes brides combine them with stylish headpieces.
Combs:
Picking out the right hairstyle for your wedding day can be nearly as stressful as finding the right dress. Combs help to add sparkling accents to updos and other hairstyles. They come in different varieties and often feature dazzling crystals, rhinestones and pearls.
Headbands:
Looking for a way to separate distinct parts of your hairstyle? Stunning headbands are available for brides, dynamically designed and perfect for bringing an outfit together. You can find them with crystal embellishments, floral rhinestone motifs, and even colorful three-dimensional ruffles.
Tiaras:
Always dreamed of feeling like a princess on your wedding day? Then brightening up your look with a tiara might be the right choice for you. These look great with updos or flowing hairstyles. Many can even be paired with a variety of different veils. Tiaras often come highlighted with pearls, rhinestones, crystals and more.
Shoes
Deciding on the right pair of shoes for your wedding day is a tricky proposition. As much as you want to go for the best style, you also have to consider that you will be walking around in them all day long.
High Heels:
Of course, high heels do a fabulous job of elongating your figure and making you look your best. But the long day ahead of a bride can make them a little bit intimidating. Many brides get around this by only wearing their heels during the ceremony and photographs. Afterward, they discreetly change into a pair of flats or even sandals for the reception.
Dyeable:
Dyeable shoes are great for creating a cohesive look between the bride and her bridesmaids. The bride can simply wear a white or ivory version of the shoes, while the bridesmaids can have the same style dyed to match the color of their dresses.
These are just a few of the many accessory options available for brides on their wedding days. And you shouldn't stop there! Remember there is a whole wide variety of jewelry, handbags, garters, sashes and much, much more that can help to make you look incredible on one of the biggest days of your life.